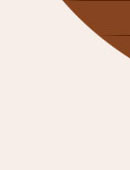 Ken Beilman the Author:

Combining Diversions
Scuba diving and underwater photography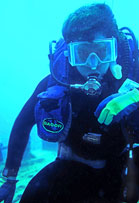 Kenneth M. Beilman, MD
Internist,
pianist,
photographer,
author,
scuba diver

Scuba diving: ah, the pleasures of the deep, the thrill of gliding weightless in a watery wonderland, far below the water's surface. All around is a panoply of colors and a profusion of life, another world to explore and cherish. This is where life itself began. The surge gently rocks me to and fro as I slowly descend upon the ancient reef.

The reef is teeming with schools of fish, brightly colored coral, and scurrying invertebrates. Over there is a purple sea fan, slowly swaying in the current. A sea snail with its seemingly hand painted markings adorns the fan and calls for closer inspection. My camera in tow, I snap a macro photo and hope it captures the beauty of the moment. As I float over the top of the reef, I spot a queen angelfish. Its hues are saturated and intense, bright yellow markings stamped on its slate blue form.

Reacting quickly, I point my camera and shoot. In an instant, the fish is gone, disappearing in the nooks and crannies of the reef. As I drift down the reef's side, I spy a purple and yellow fairy basslet navigating the waters amidst 3 large tube sponges. Trying to not disturb the fish, I quickly but carefully make my way to the site and click another shot. The reef harbors an endless bounty of life and photographic opportunities.

I have been scuba diving since 1980. Since that time, I've logged over 100 dives. I still value the truly unique experience of entering another world, a world within a world. Drawing on my experience, I hope to advise would be scuba divers with some helpful pointers in this article.

Diver Training
While I heartily recommend the sport, fledgling divers should not underestimate the skill needed to safely enjoy scuba diving. I do not recommend the resort courses for training. These are crash courses that some resorts offer and consist of just an afternoon of training. Given the potential for disaster, such abbreviated instruction is ill advised. There are several diving shops in the Louisville area that offer full training courses. These involve several days of instruction with both classroom work and training in a swimming pool. The certification check out dive is typically in one of the local rock quarries. Upon successful completion of the course, the novice diver receives a certification card that designates some measure of competency. Most ethical dive operators in Florida and the Caribbean require a certification card to dive with them. Good dive operators will also require a dive log that indicates a dive within the past year or two. Otherwise, a supervised check out dive should be necessary.

To Buy or Not to Buy
One of the mistakes I made when I first bought my equipment was buying a tank. This is a waste because all of the dive operators offer filled tanks as part of their service. And besides, who wants to pay the airline freight to ship a tank to Key West and lug it around? The novice diver should purchase the mask, fins, and snorkel. The diver can rent the weight belt, buoyancy compensator, regulator, air pressure and depth gauges, and the tank from the dive operator. Dive computers are nice but not necessary. This is because the dive operators plan the dives to avoid problems with decompression and nitrogen narcosis. If diving becomes a regular activity, it makes sense to purchase all your own gear.

Underwater Photography
I added underwater photography about 2 years after I began diving. A few of my photos appear with this article and I describe them in my opening paragraph. Underwater photography has added an immense amount of pleasure to my shutterbug interests. It provides a very different subject matter than most of my photos. Something that most novice underwater photographers don't know is that a flash is an absolute requirement to get acceptable pictures. Below 10 feet, without a flash, everything looks blue to the camera. With a flash, the vibrant reds, yellows, and oranges become manifest. And the underwater colors of tropical reefs are amazing! Not surprisingly, the better the camera and flash, the better the pictures. However, the better underwater cameras can be fairly complex to operate. This can pose a danger to the novice diver by having too much equipment to contend with. So I advise some diving experience without a camera before going overboard with photography (pun intended).

Growing Discriminating
When I first started diving, springs and sinkholes in Florida were a real thrill. I didn't mind wrestling with the ¼ inch wet suit for the 72-degree water or not seeing much fish life. Most novice divers will find these sites exciting. But, after logging many dives in Florida, the Caribbean, and Hawaii, I became jaded and very particular. If the dive requires a ¼ inch wet suit or the water is colder than 80 or so degrees, I 'm not interested. If the dive trip is not to a tropical reef or an underwater wreck with a least 50 feet of visibility, count me out. If the dive master doesn't allow divers to buddy-up and explore the reef, I'll stay onshore. If the water is rough, I'll see you on another day when it's not. Speaking of rough waters, it is best to avoid the Caribbean in hurricane season, September through November.


Desirable Dive Sites
The Florida Keys have some great dive spots. John Pennecamp Park, off Key Largo, is a good example. The reefs typically lie in only 30-40 feet of water and provide good sites for new divers. Looe Key, near Key West, is one of my favorite Florida dive destinations. The visibility is generally at least 50 feet and, being federally protected waters, the aquatic life is luxuriant. I saw my first sea turtle there, an awesome sight underwater. Some of my most exciting dives have been on San Salvador, the Bahamas. On the edge of the continental shelf, San Salvador offers exhilarating wall dives. The local grouper fish are friendly and will accept food from anyone who will offer it. Hawaii offers tremendous and unusual diving experiences. Black coral and pacific fish highlight the differences from the Caribbean. The Humpback whales winter in Hawaii and are a stunning underwater sight.

The super bowl of diving in the western hemisphere is probably Grand Cayman. The visibility is often greater than 100 feet and the underwater topography is extraordinary. Unlike the Florida coral ridges lying on the flat ocean floor, Grand Cayman is like the Grand Canyon underwater. It sits on the edge of the continental shelf with underwater cliffs that drop 4000 feet straight down. The aquatic life is profuse and diverse. The dive operators are experienced, helpful, and offer a tremendous variety of dives - shallow, deep, cave dives, wall dives, night dives, and shipwrecks. Diving in Grand Cayman is a peak experience. However, don't expect American standards in their restaurants and accommodations.

So, to experience a truly novel and deep experience, consider scuba diving. This is one sport where you can really get down. But get the proper training first and add photography only after you've had some experience under your weight belt. Scuba diving can provide a lifetime of exciting adventures.

Reprinted with permission from Louisville Medicine, January 2000, a monthly publication of the Jefferson County Medical Society.